Congrats to the 5th grade students of the month: Orange Team: Jaxon Wainscott, Ansh Patel, Reese Grant, Henley Hubble Blue Team: Eva Karnes, Jenevieve Baker, Maddox Bankston, Caroline Bridger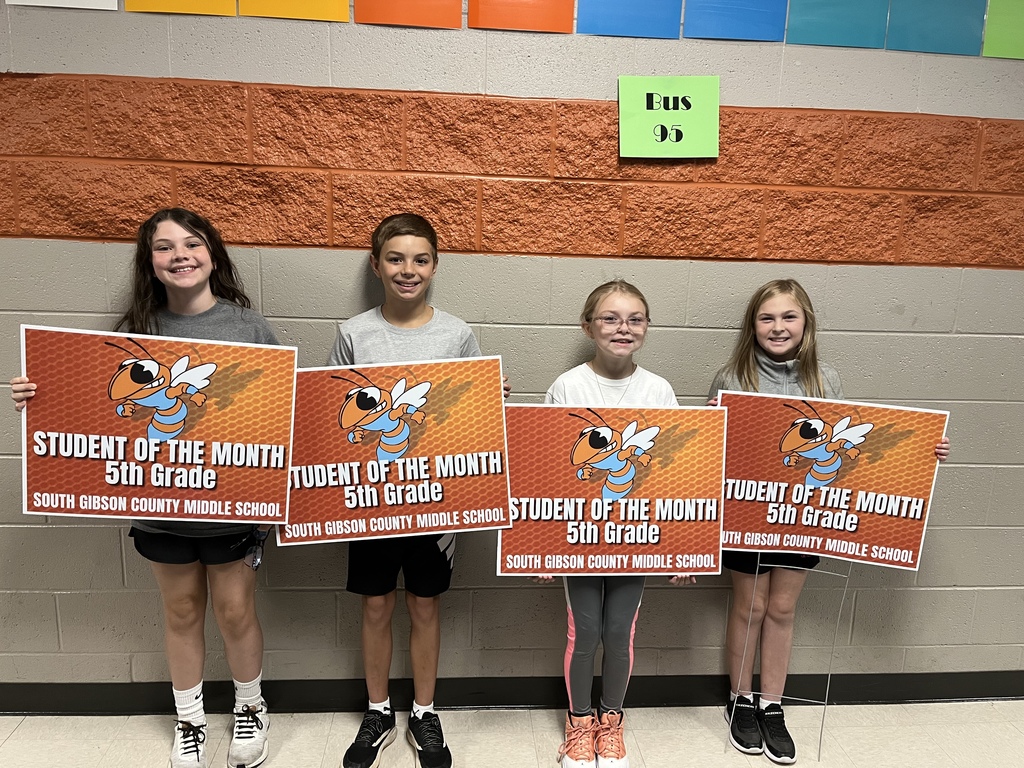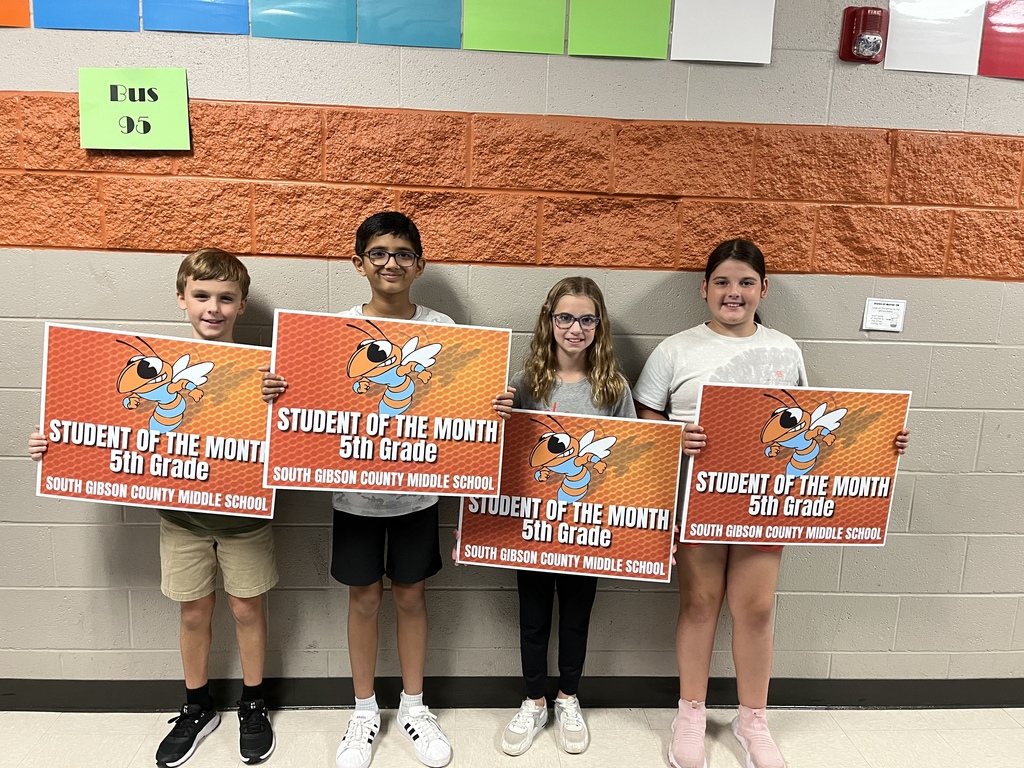 Our 7th grade students were hard at work in the science lab this week measuring and using triple beam balance scales.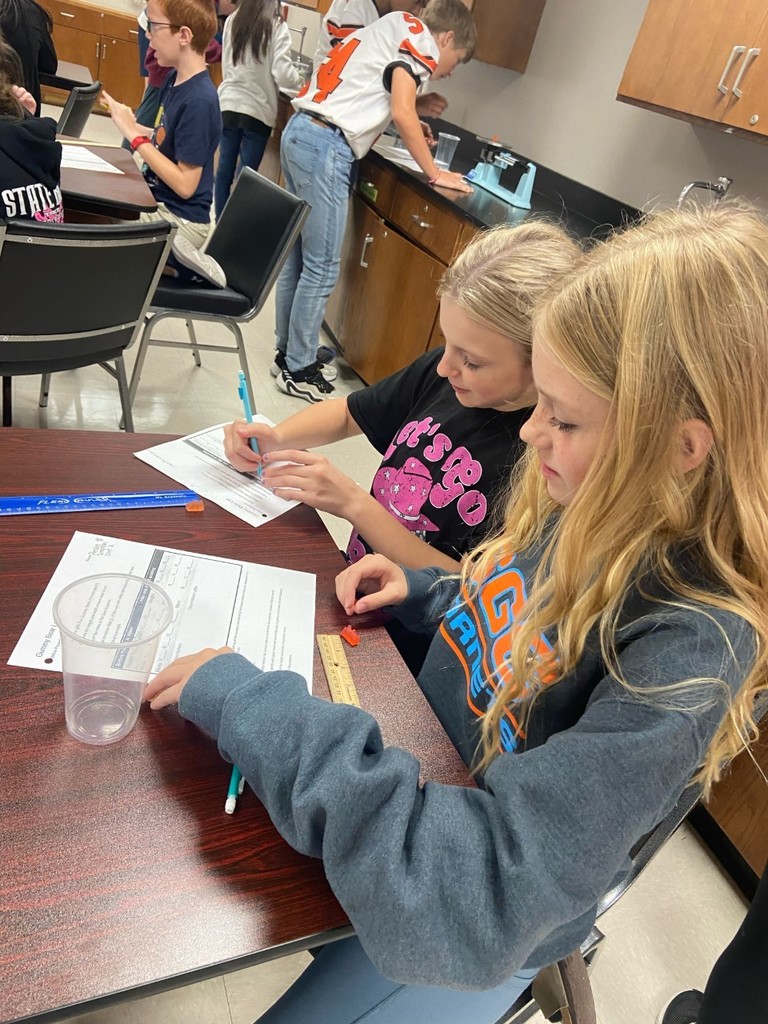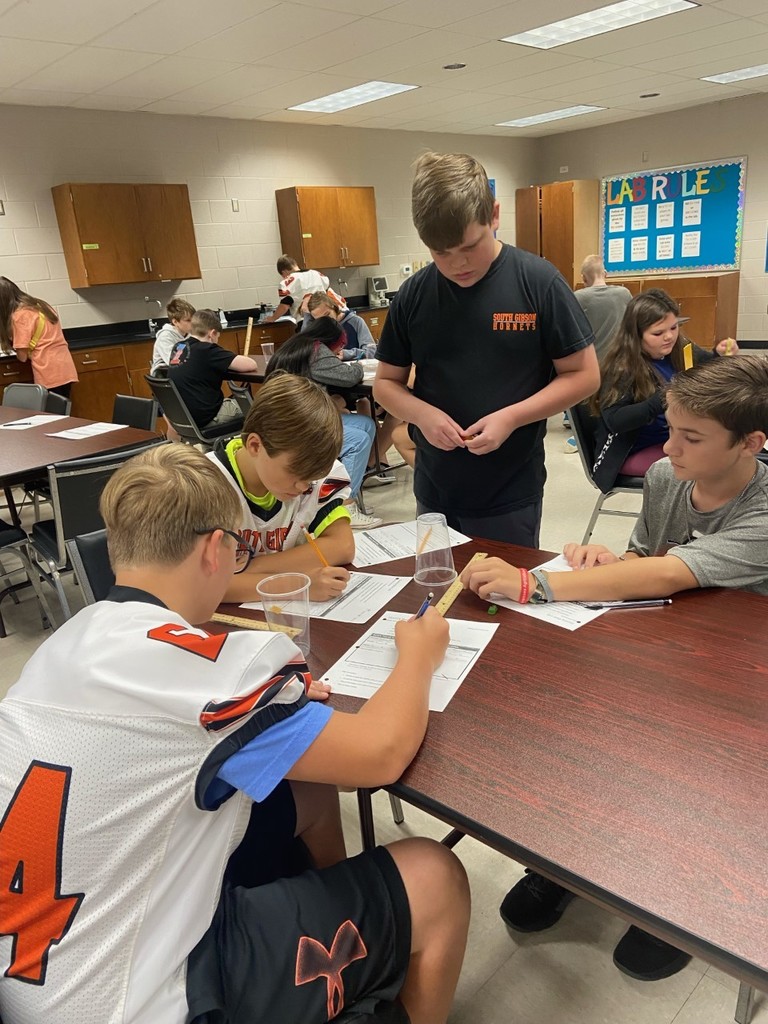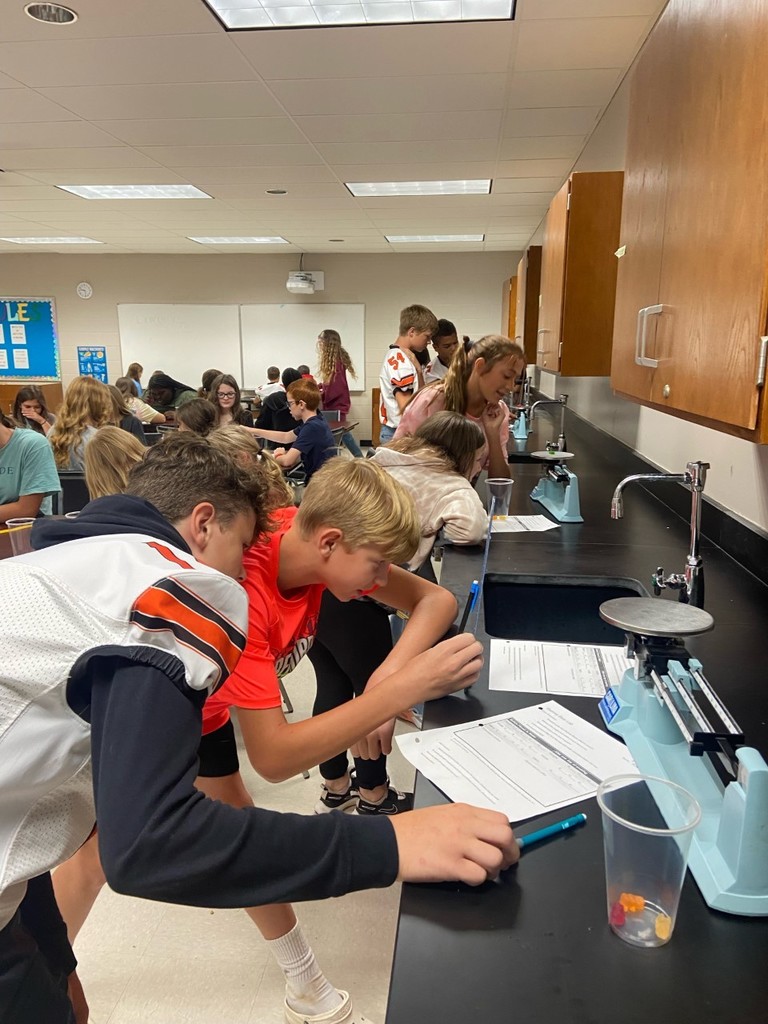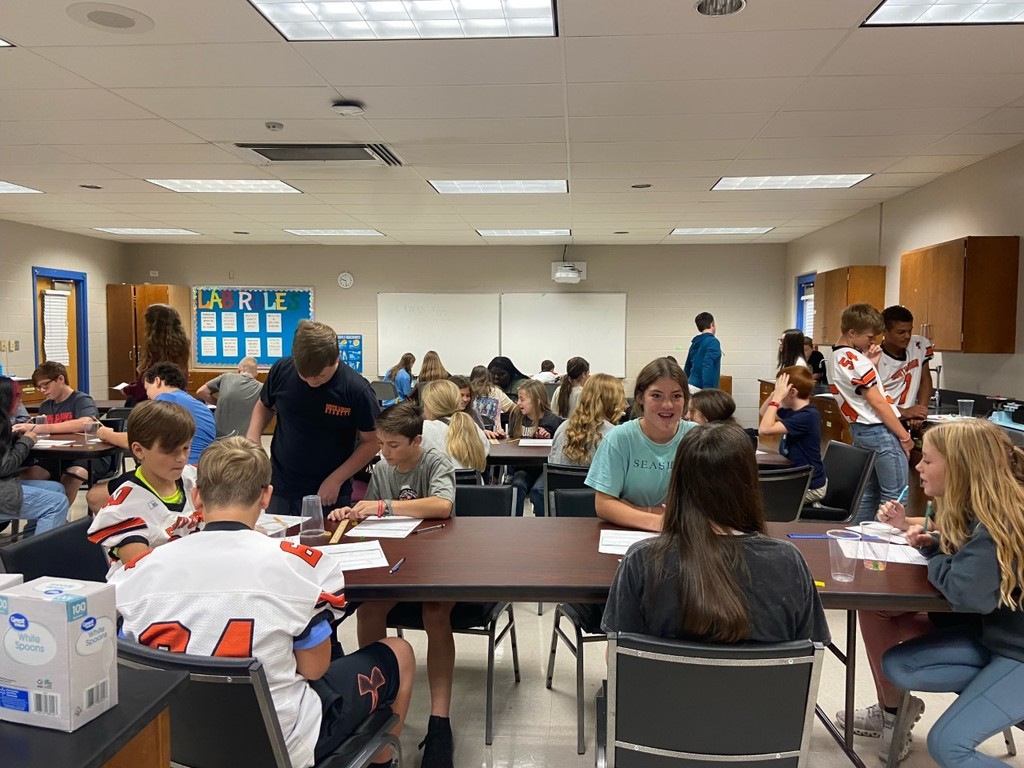 7th/8th grade picture day will be Thursday, September 22. 5th/6th grade picture day will be Friday, September 23. We are excited to have Amy Bratton Photography taking pictures for us this year!

Congrats to our 8th grade students of the month! Orange Team: Jacob Bateman and Payton Wilson Blue Team: Juliet Barker and Max Paschall

The South Gibson County Bass Fishing Team is having an informational meeting tonight for students (ages 10 +) tonight, August 30, 2022 at 6:00pm, in the SGC High School Cafeteria for students who are interested in learning about the fishing team and/or joining.
Homecoming dances are tomorrow night. 5th and 6th grades are from 4-6 PM and 7th and 8th are from 7-9 PM. Admission is $5.00 and concession will be available. Parents will be met by chaperones at the gym doors for sign in and pick up. Students cannot be dropped off parents must sign them in.

Book Fair Info . . .

6th grade students of the month. L to R: Cannon Caraway, Easton Bomar, Allison Droke, and Acie Allen. The 6th grade teachers would like to say congratulations to these four students for displaying outstanding character and an unmatched work ethic.
6th, 7th and 8th grade students received passive permission slips about the abstinence program that will be offered at various times this school year. You only need to sign and return if you don't wish for your child to participate. Also, Miss Carly Archie talked with our 8th graders about some important events coming up: On Friday, September 2nd, the 8th grade students will be taking a career aptitude assessment called YouScience. A parent note with login information will be sent home afterwards if you would like to see their results. On Friday, September 23rd, the 8th grade will be going on a field trip to Jackson State Community College to attend a career fair and put those YouScience results to use. Permission slips were sent home for that today so please sign and return those to your child's homeroom teacher as soon as possible. Finally she talked about the Work Ethic Distinction program. Packets were handed out to those who expressed interest. Packets will continue to be available in the main office. Please have your child see Mrs. Tracy Adams if they need one.
SGCMS Booster Club meeting tomorrow night (8/18) at 6:30.

SGCMS yearbooks are on sale online only now. 8th grade yearbook ads are also available online.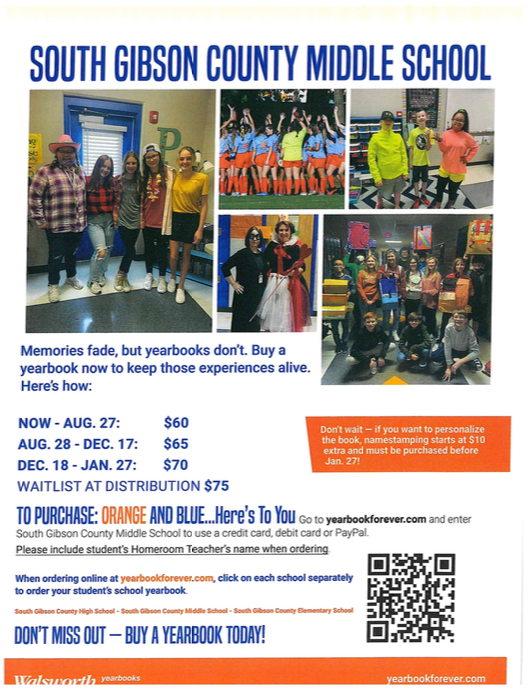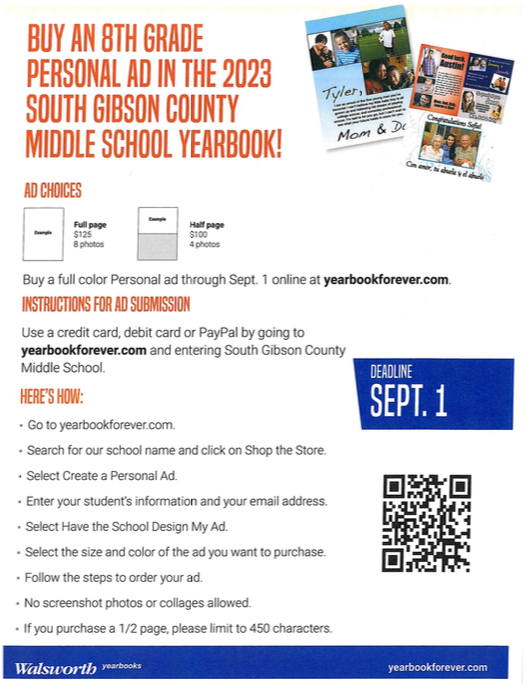 Homecoming Shirts Order Forms . . .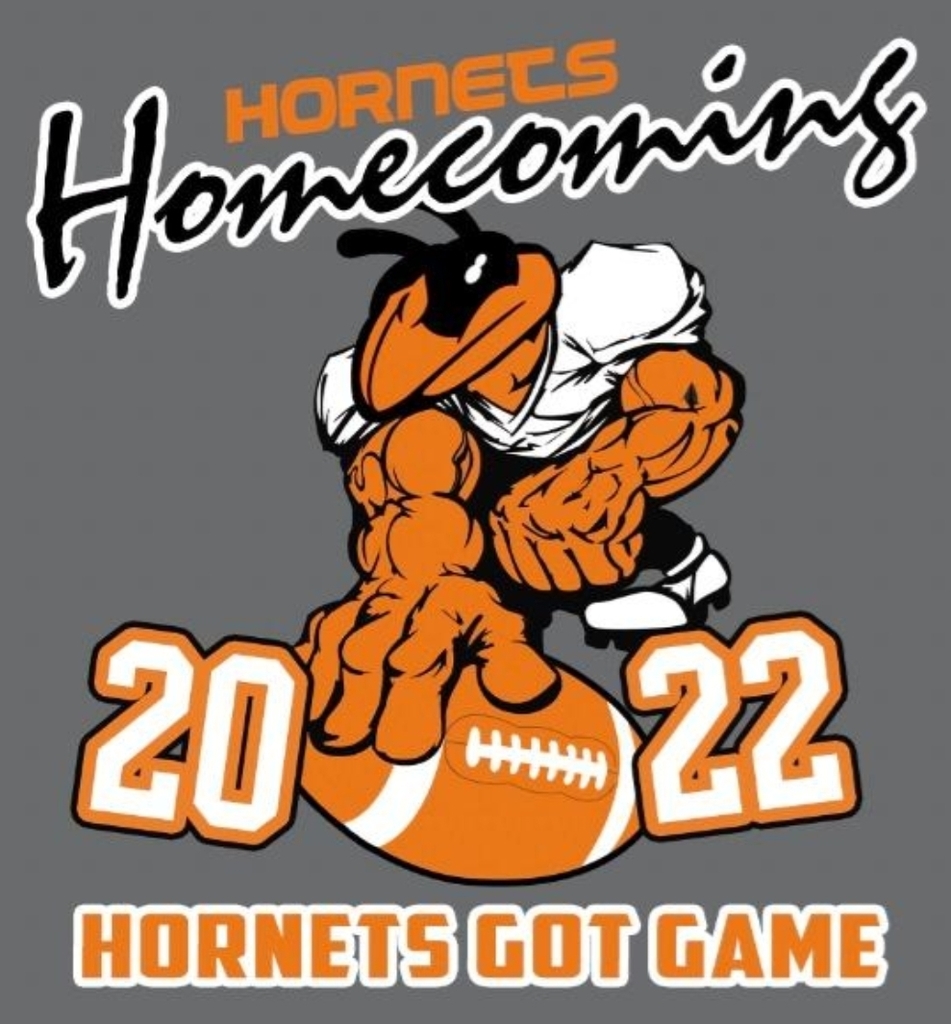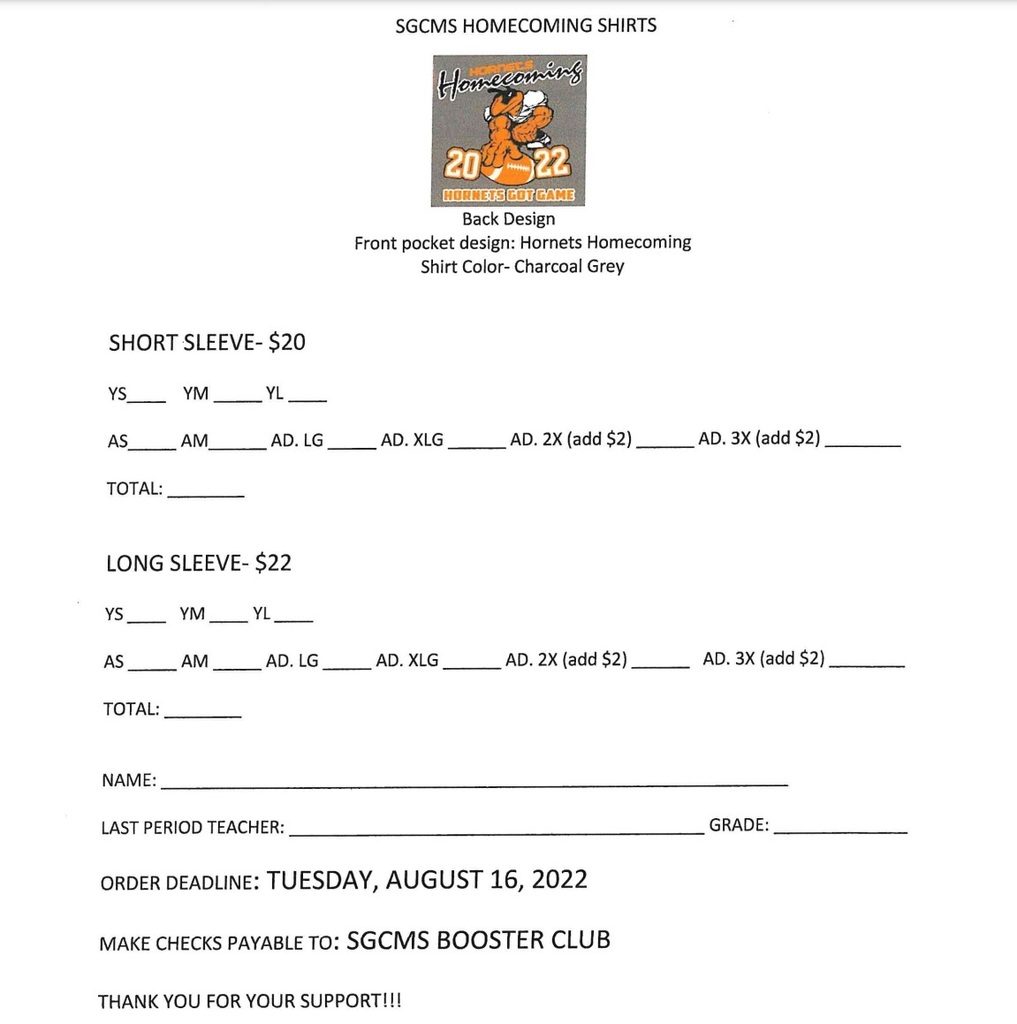 Tonight's middle school football game has been canceled due to weather and will be played this coming Thursday night at home.

Use the following QR code to purchase tickets to middle school athletic events . . .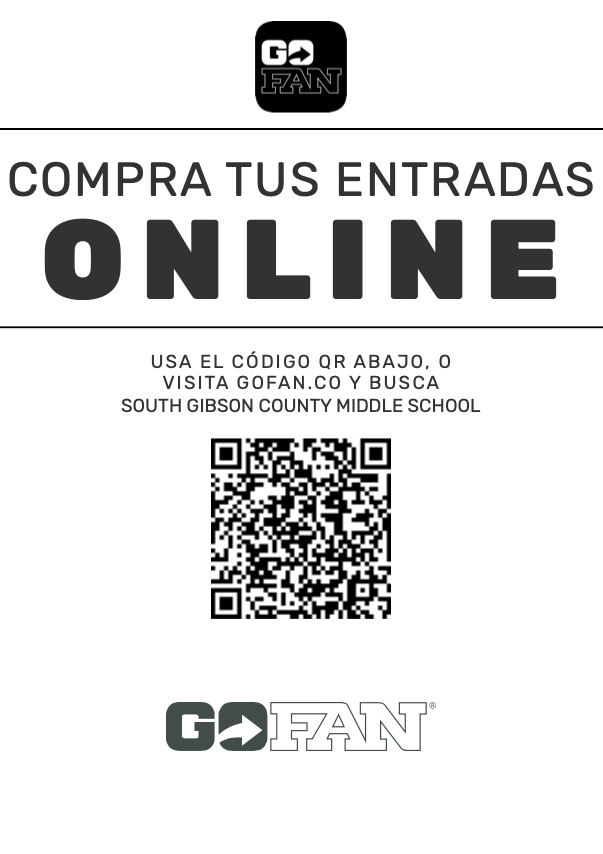 On August 17th, starting at 5pm, New Hopewell Church will be having a drive-thru during which community members can receive nonperishable food items. Simply bring a container (an extra laundry basket, for example) and pop your trunk when you come through the line. This event will take place, rain or shine, at 500 West Church Street on the corner of the 45 bypass and 152. We are so grateful to our community partners who provide services to benefit our students.
The only high school drivers that need to take the joining road between the middle and high schools are those picking up a middle school student. Due to middle school dismissal traffic there is no room for the additional vehicles and it brings traffic to a stand still. If you have a high school student that picks up at the middle school please make sure to get them a middle school car rider tag this week. The middle school student can request one. All other high school drivers need to exit in the front of the high school. Thank you so much for your help with this.

South Gibson County Middle School in so appreciative of the Medina Lions Club for their generous donation of back to school supplies to Mrs. Molly's Extended Learning classroom. We at SGCMS are so grateful for community partners such as the Medina Lions Club for supporting our teachers and students!

8th Grade Yearbook Info . . .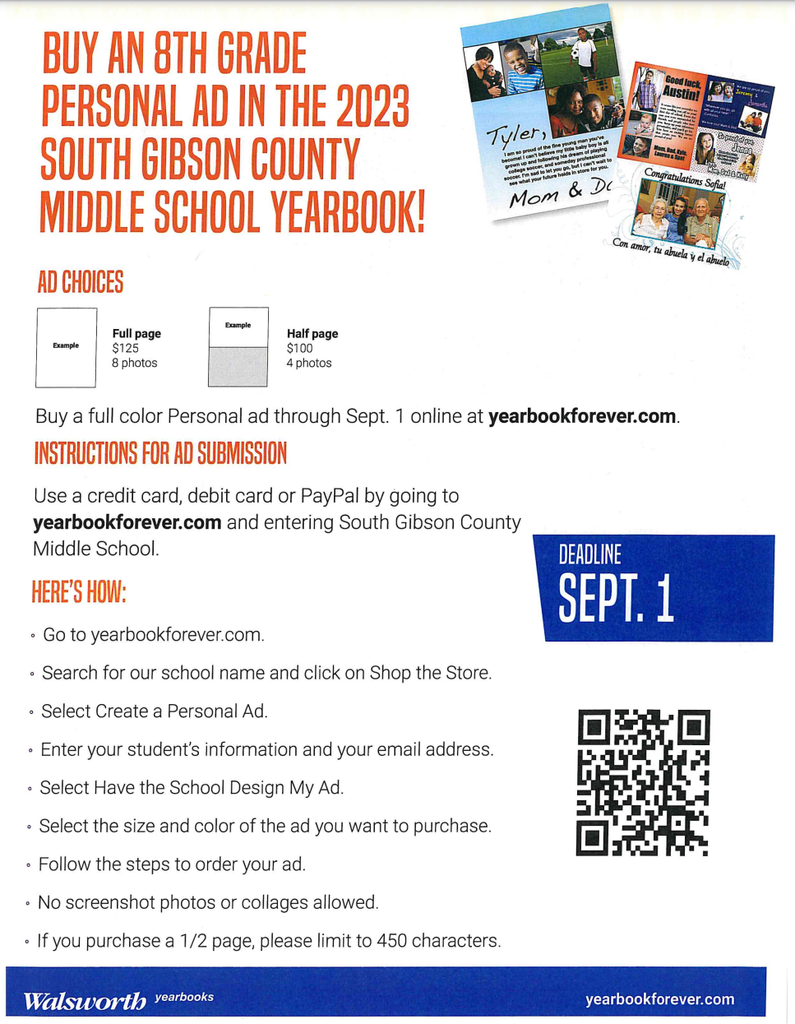 Parents if you drop your students off in the front of the school in the mornings please pull through the circle and drop them at the front door. If you have been pulling into the parking lot and dropping them off there is no one to ensure their safety among the other cars. This would also apply to morning drop off in the back as well.
If you are planning on attending the SGCMS football Jamboree tonight at Milan (6:30PM) you can purchase tickets via the Ticket Spicket app for $5.00. They will be $8.00 at the gate.